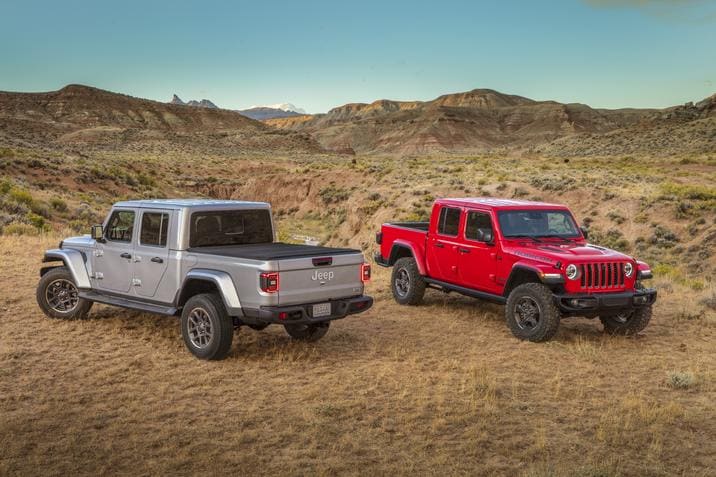 Thanks to the LA Auto Show, we have the scoop on a special new vehicle that we think you're going to love: the Jeep® Gladiator. If you've wondered before what a Jeep truck model would look like, you've finally got your answer! As your Brunswick Jeep dealers, we couldn't be more thrilled to share with you what we know today.
The 2020 Jeep Gladiator gets best-in-class towing with 7,650 lb and 4x4 payload. The model also includes suspension tuned to optimize on-road handling and ride comfort.
Not only is this model tough for on and off road, but it is styled with that rich Jeep heritage that all generations have gotten a chance to revel in. With advanced fuel-efficient powertrains, a 3.6-liter V6 and a 3.0-liter EcoDiesel V6, this model jumps into the future, but reminds us of the past in all the best ways. Think iconic round headlamps, keystone-shaped grille, and square tail lamps.
You can get this vehicle with an eight-speed automatic or a six-speed manual transmission. The crew cab configuration features a durable five-foot steel bed with covered external power source and strong integrated tie-downs. In this vehicle, you'll also get to experience unmatched crawl ratios and up to 30 inches of water fording in select trims.
Modern safety features and new convenience tech take this model to a whole other level. Hardtop and softtop options, plus the convenient fold-down windshield, are awesome for off-roading. They also make this model the only true open-air 4x4.
To learn more about this super versatile upcoming model, you can come by our OH car dealership. And if you're interested in any other models such as the Jeep Grand Cherokee or the Jeep Wrangler, which is what the Gladiator is based off, we are more than happy to assist. Come see us today!